- Originally published at Inman News - Craig C. Rowe
Realtor.com's Listing Toolkit is an easy, modern solution for listing agents to build CMAs, demonstrate home marketability and help sellers discover who might want to buy their home.
Are you receiving Inman's Agent Edge? Make sure you're subscribed for the latest on real estate technology from Inman's expert Craig Rowe.
Listing Toolkit by Realtor.com is a seller lead generation and marketing solution
Platforms: Browser
Ideal for: Brokerages, teams, agents
Top selling points:
Smart vendor integration
Data-powered Listing presentations
Buyer matching
Native listing advertising/promotion
Agent promotion tools
Top concern(s):
There are some solid integrations here with proven industry colleagues but there's an absence of a CRM tie-in to assist in tracking or integrating existing clients. Perhaps that will come from pending updates.
What you should know:
Listing Toolkit is a resource for agents to attract more seller clients and uncover buyers seeking their homes, among other benefits. It's for those with Realtor.com Pro accounts and has a full integration with Lone Wolf's Cloud CMA to quickly build dynamic presentations that can be juxtaposed with a wide range of buyer traffic data to demonstrate demand across the entire Realtor.com coverage area. It enables quick property advertising campaigns and allows for self-promotion and branding using Realtor.com's UpNest product suite, which allows for paid increases in reach. Overall, the experience is supported by a modern, consumer-facing UI and should pose little challenge to learn. It could be a nice value-add to the tech stack of agents with reasonable marketing budgets, and a good use of time for small, tech-forward brokerages and teams with marketing staff.
I was a little cynical going into this demo, which is not uncommon for me when interacting with massive industry brands. I suppose it's a good thing to exercise a healthy amount of skepticism, as it provides me an edge from which to challenge big brands with equally notable budgets. In short, Realtor.com needs to be held to a higher standard. It has proven personnel and financial resources and unfathomable amounts of consumer traffic and behavioral data on which to base product decisions.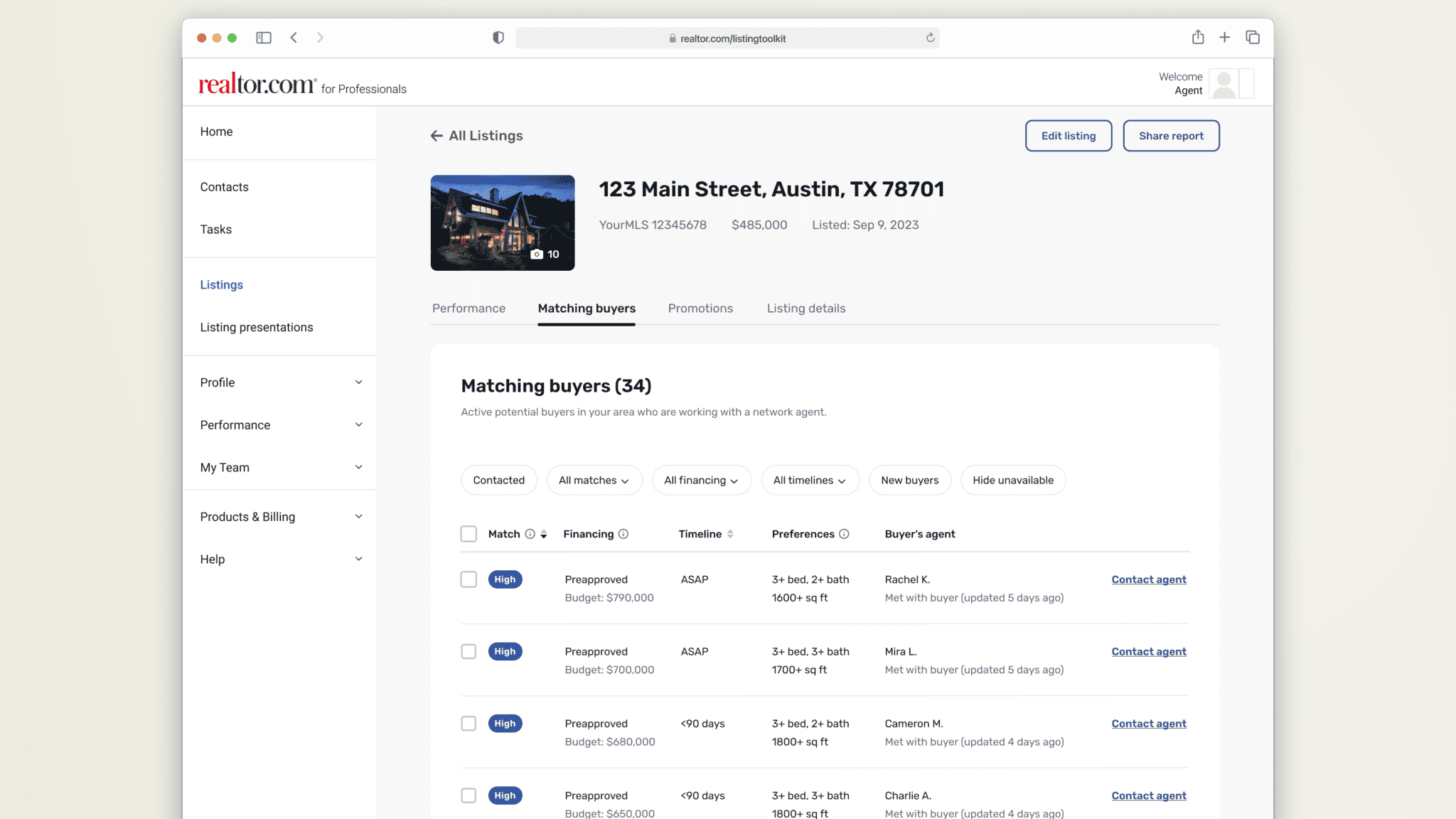 Even after close to nine years of reviewing proptech for Inman, I'm still learning to separate my expectations from what defines a worthwhile product. This was another lesson in that journey, and it's why it took me almost a month after our demo to sit down with Listing Toolkit. The PR team was getting anxious.
The Cloud CMA integration comes with its stand-alone benefits but with the added value of Realtor.com's nationwide property insights. Creating a report starts with naming it, entering the subject address and selecting from an overview of quickly populated comparables. The user can then build out the CMA with a custom page structure and other details to be published digitally or as a static PDF.
Listing Toolkit can include a few pages in the CMA that contain the written breakdown of its features, offering a simple explanation to the seller on how their home will be broadcast to the market. This ties directly to the additional tools in the application, like the advertising campaigns, UpNest agent promotion features (it doesn't hurt to show a seller how you promote yourself) and buyer matching function.
I take slight issue with these pages, not from a quality or value perspective, but in terms of simple sales tactics. I think they would have more impact if the agent simply explained the features and what they'll be doing to sell the property in a more non-partisan format. It could come off as a little too off-the-shelf, perhaps risking the seller asking, "Well, can't any agent do that for me?"
Real value comes from showing a seller the number of buyers out there for their home, based on a compendium of saved consumer searches, buyer agent data and online behavior metrics. Of course, it's not exact, as buyers are always altering wants and needs, but showing a seller hard numbers of any kind is worth the time because it helps manage expectations, the single most challenging aspect of home sales, especially for sellers who are up against a must-move date or a father with an over-zealous, under-informed opinion of property value. And, it's a great discussion point for price positioning.
The live format of the report will certainly come off as more tech-forward (but yes, everyone still wants hard copies today), offering the same content in a more interactive experience.
Once the listing is live, the buyer matching features will prove valuable, allowing for listings to be sent directly to fellow agents with capable clients, which can be seen in a nicely detailed breakdown for their budget, general financial wherewithal and timeline. Custom messages to buyer agents also help, so use that feature. Please don't write "new listing!" in a subject line, paste a URL and call it done.
Additional promotion can be done to the more open market with an on-board display ad builder. Users can set a budget and timeline alongside a transparent ROI breakdown that essentially shows how much exposure an ad will get based on spend. And yeah, if you spend more, more buyers will see it. That's business.
Listing Toolkit is a solid add-on to what you're already doing, it doesn't have to interrupt existing systems or even require a great deal of time to fully leverage. It would make a very good option for newer agents unsure about digital marketing. This covers the important bases. Worry about short-form video branding a little later, get your listings into the marketplace first.
This application is also there if you want or need a new CMA tool, and the advertising is much easier to deploy than a Facebook experience, with more relevant performance metrics. The more I thought about it, the more I saw its value to the everyday agent needing to compete and advance. It's not a big system to learn, it's not overwhelming and it underlies fundamental marketing practices.
So, yeah, this is well thought-out, and above all else, an easy bit of proptech to learn and adopt. The team at Realtor.com likely has more in the pipeline, and because of this, next time I'll be more eager to see it.
Have a technology product you would like to discuss? Email Craig Rowe
Craig C. Rowe started in commercial real estate at the dawn of the dot-com boom, helping an array of commercial real estate companies fortify their online presence and analyze internal software decisions. He now helps agents with technology decisions and marketing through reviewing software and tech for Inman.